SEO (Search engine optimization) services
Only publish a website on the internet is not enough to get traffic, leads, and sales for your products, that's why SEO comes into play.
SEO is a simple and less costly strategy to grow your business local to the international market.
SEO (Search engine optimization) is an internet marketing technique to getting more organic traffic from branded and organic keywords on search engines like Google, bing, and yahoo.
In another word, search engine optimization is the advanced process of increasing your website visibility and your specific web page on the internet.
Shreedama is well known SEO Company in Surat that provides well-researched SEO and digital marketing services to your business.
Hire our SEO expert in Surat, they will manage and optimize your website according to a search engine and better user engagement.
We ensure that your business is giving a return on investment (ROI) as per your requirements. Our SEO team is highly professional to bring your website on the first page of Google.
Benefits of SEO services
There are 1 billion users are active on search engines and 1 trillion keywords are searched per day on Google.
SEO is a less costly strategy for your business as compared to marketing.
SEO can help you to make your name a brand, increase trust and credibility
If you are running a local store, it can help you to take your store online and target the international market also.
Search engine optimization can be a long term marketing strategy
SEO helps you to beat your competitors in the market
It can bring high ROI and better conversational rate
We are IT company in surat that provide the best SEO services and make your business profitable
Why Prefer Us For SEO Services?
We have the most experienced SEO expert and managed enterprise, local and international projects.
Our SEO Company only focuses on White hat techniques, so there will be no chances to get a website blocked by a search engine.
We follow all the rules and guidelines set by Google
Shreedama keeps updated and does changes on your website on regular basis.
Technical support through email and phone
We ensure that customers get complete satisfaction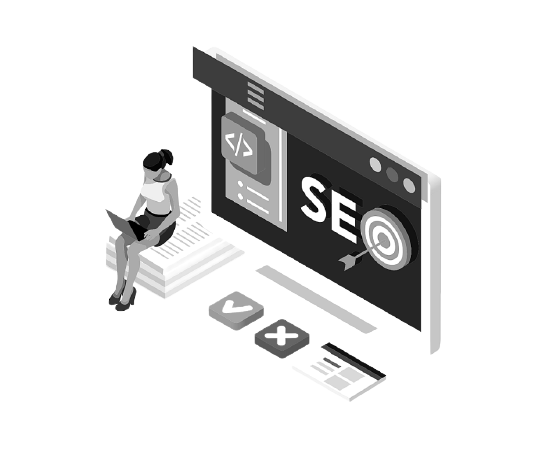 Site audit and optimization
Title tag implementation
Meta tag
Heading tag
SEO friendly URL
Page speed
Sitemap.xml
Robots.txt
Alt tag in images
Keyword research and selection
Social media sharing
What We Will Do In Search Engine Optimization?
Backlinks
Brocken links fixing
Schema tag implementation
Canonical tag
Google search console-setup
Google analytic setup
Google my business listing
Internal linking
SSL certificate
Blog creation
Guest post submission
It's important for every business to rank higher for keywords that people are searching to get your product or service. If you can't leverage SEO, you will miss an opportunity to a higher ranking for search terms, and your competitors will steal your customers.
There are always chances of improvement, so we are still making technical and non-technical changes to the website to ensure SEO-friendly.
Ekko is a fully packed practical tool of premium built and design.
Understanding your requirements and objectives is important to us. We listen and work together to create an experience.
Try Premium free for 30 days.
[contact-form-7 404 "Not Found"]
1) What is SEO?
SEO stands for search engine optimization means the process of improving your site to increase its visibility when people search a specific term
2) Why your business need SEO?
Higher ranking of the website and get a more targeted audience, every business needs to do SEO.
3) How long it takes to rank my site?
It depends on how much competition your keyword has and how smartly you work. If your competition is low you will rank within 1-2 months and if high, your website will rank in 3-6 months.
4) How much does it cost to do SEO?
SEO cost starts from ₹8499 to ₹30000 and it depends on how large your business is the competition, and the keywords you want to rank for.
5) What are benefits of SEO?
Your website gets more visibility.
More organic traffic
More sales
Branding
Targeted audience
Target multiple location
6) What is the difference between SEO and PPC?
In SEO, you don't need to do advertising to get sales, and it is a completely organic method but in PPC marketing you have to pay for every click and advertising.
7) Does SEO increase sales?
Yes, if you get a higher ranking on search engines and when people search your product and if you will rank high, you can get more sales.
8) Do you do competitor analysis?
Yes, we do competitor analysis as well.
9) What are your payment steps?
Once you place an order we take 50% amount in advance and the remaining amount we take On delivery time.
10) Which techniques do your apply to rank my site?
We apply white hat techniques to rank your site on search engines for the long term.
11) Will you check and help to remove my Google penalty?
Yes, we do a full website audit and check google penalty to remove from your site.
12) Will you do my fix my technical issues?
Fixing technical issues is most important in SEO to get higher visibility.
Questions?
If you have any questions related to SEO services, we have covered all of the answers to your questions.
Contact us
About Us
We are a leading graphic design company in surat and want to know more about us and our services, click on the link here and get more information About Us.
Learn More
Interested? Let's get in touch!
Ekko is a fully packed practical tool of premium built and design.
Let your creativity loose and start building your website now.